During the Coronavirus crisis, McHenry PCS is trying to do our part to provide our essential customers with service, support, and ways to help combat this war on the virus. Below is how our offered equipment and chemicals can be used to assist you in cleaning, sanitizing and hopefully winning the war!
Here is what we'll be going over:
---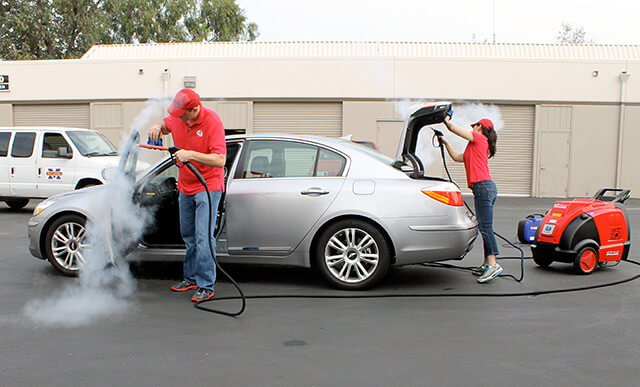 1. Optima Steam Cleaners
Optima Steam Cleaners have the capability to clean and sanitize both indoors and outdoors. McHenry PCS offers the Optima Steam Cleaner in several different configurations:
Oil-Fired
All-Electric
Stainless Steel
and More!
The Optima Steam Cleaners have automatic temperature and pressure controls and kill bacteria due to the fact that it can get up to 270 degrees Fahrenheit output temperatures. Because they produce vapor steam, they provide great indoor cleaning with no runoff or overspray.
Can it Kill the Coronavirus?
The Optima Steam Cleaners have proven to be effective in killing other viruses in the past, but can this cross-industry cleaner kill the novel coronavirus? While there is no specific validation that the Optima Steam Cleaners can kill the coronavirus, the data is looking promising!
The Centers for Disease Control (CDC), the World Health Organization (WHO), and scientists are working hard to understand this new virus and learning ways to either prevent or stop the spread of COVID-19. Research is indicating that the virus is killed when it comes into contact with moisture and temperatures that are greater than 175 degrees Fahrenheit, otherwise known as steam.
Proper Use vs Viruses
In order for the Optima Steam Cleaners to properly kill bacteria and viruses, the proper containment and disinfection methods must be followed. With guidance from the CDC, the EPA has outlined a list of proper disinfectants that can be used against COVID-19. When purchasing a disinfectant product, check if its EPA registration number is included on the EPA's list; if it is, you have a match and the product can be used to help prevent or kill the coronavirus.
Personal Protective Equipment (PPE) should always be worn when pressure cleaning, but especially when you are cleaning surfaces that have potentially been contaminated.
Personal Protective Equipment can include:
N95 respirator face masks are PPE that is used to protect from airborne particles and any liquid that could touch the face.
Safety goggles or face shields are other forms of PPE that can be worn to prevent contamination. Safety goggles can be appropriately fitted and are indirectly-vented to help protect eyes from any splashes, sprays, or respiratory liquid.
Gloves can also be worn as PPE to protect the spread of infection or illness. When wearing gloves as PPE, it is important to make sure you follow simple guidelines for keeping the gloves intact to prevent exposure. For example, wash your hands before putting on sterile gloves, always change your gloves if they rip or tear, and never reuse the same pair.
Any type of spraying or cleaning can disturb the contagions, rendering them airborne, so it is important that clothing and porous materials are deemed hazardous and treated as such.
Ordering A Steam Cleaner
If you're interested in equipment financing options for Optima Steam Cleaners, please contact us or try our lease calculator.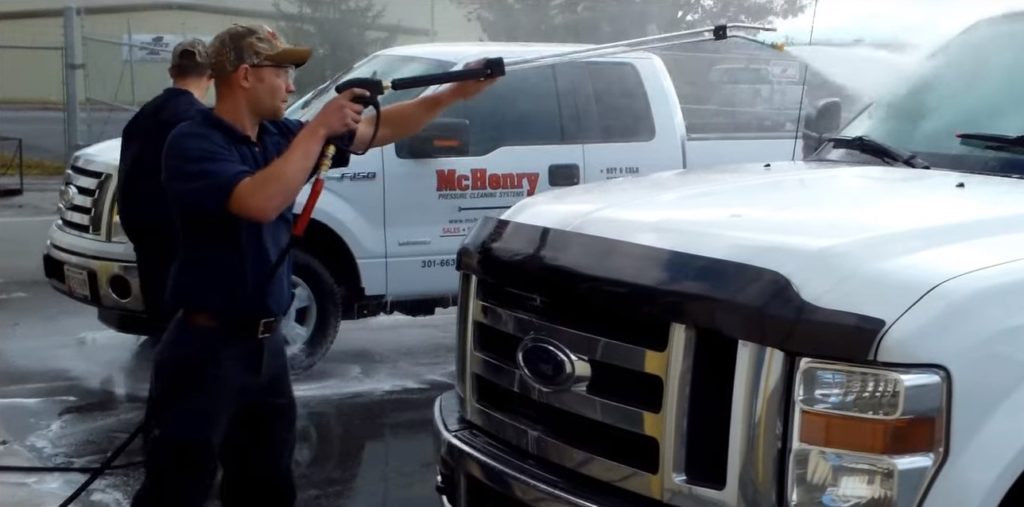 2. Hot Water Pressure Washers
Sanitation crews in other countries have been using hot water pressure washers to clean and sanitize outdoor areas. However, the effectiveness of using hot water pressure washers to eliminate the contagions emitted by COVID-19 has not been verified by the CDC or the WHO.
McHenry PCS carries hot water pressure washers for rent and sale that can be used during or after the novel coronavirus outbreak. Our hot water pressure washers can remove any trace of grease, grime, and contamination when used with quality ingredients. McHenry's hot water pressure washers are available in gas, diesel, LP, natural gas, and electric drive, portable and stationary units, and offer a wide range of PSI/GPM output.
Custom Units
We offer a variety of custom-built pressure washers for industries such as food processing, manufacturing, construction, transportation and more! To help us better assist you, please take a moment to fill out the contact us form on our website.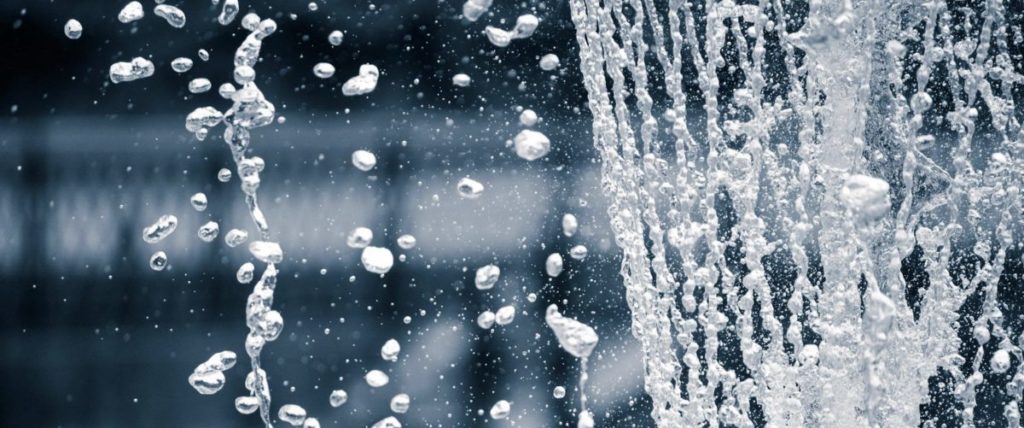 3. Degreaser Soaps
Degreaser soaps, such as 440-TX or Safety Brite, help destroy the coronavirus on hard surfaces. Since COVID-19 is a virus and not a bacteria, it is not inherently necessary to go in search of antibacterial soaps.
A fortified heavy-duty butyl based spray cleaner for removal of heavy grease and oils from surfaces. Penetrates deep into surfaces from vinyl siding to painted walls, masonry, brick, ceramic tile, and stainless steel to remove stains. It contains no acids, petroleum hydrocarbons, or amines. This product is great to use on equipment, concrete, and surfaces where mechanical grease is a problem. Emulsifies immediately for quick and easy removal.
A heavy-duty alkaline pressure wash detergent containing special penetrating, chelating, wetting, grease-cutting, and rinsing agents, which quickly penetrate soils and remove them. Safety Brite easily removes exhaust deposits, road film, dirt and most salt residue from painted vehicle surfaces. Great for heavy machinery and on-site cleaning of soiled concrete.
Fighting Against COVID-19
Soaps are made of soap molecules that have water averse and water-attracting properties. When water is introduced, the attracting parts of the molecule are able to dissolve fatty substances and liquids, like the ones that encase the coronavirus.
Soaps can dissolve the protective coating around the virus and render it less likely to survive, and then rinsing with water removes it from the surface completely. Essentially, soaps are effective in breaking down the virus and then the water used to rinse can remove the virus altogether.