Service & Maintenance
Optimize your operation with proper maintenance and service of your pressure washers, steam cleaners, and sanitizing equipment. We service everything we sell — and beyond — So contact McHenry PCS for service when your pressure washing equipment is in need of repair.
There's nothing worse than running into a problem with your pressure cleaning system. Our Preventative Maintenance Program provides you with regular maintenance checks that extend the life of your pressure cleaning equipment. We identify worn parts, as well, which helps you avoid unexpected downtime, and we keep our service trucks stocked with the parts our Baltimore-DC Metro area customers need.
Request Service
In-Shop Service
If you're able to bring your pressure washing equipment to us, our factory-trained technicians can repair and service it. We provide service many brands of portable cleaning systems in our 15,000 square foot facility located in Frederick, Maryland. Ensure peak performance with regular maintenance and repair of your portable pressure cleaning systems.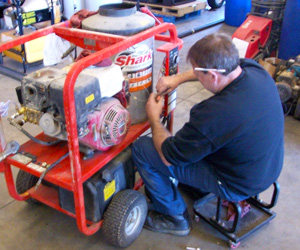 On-Site Service
McHenry Pressure Cleaning Systems operates a fleet of fully stocked service trucks to provide convenient on-site service in the Baltimore- D.C. metro area. Your stationary pressure washing equipment can receive the care it needs to keep you fully operational. Avoid downtime with on-site repair and regular maintenance visits from McHenry's experienced service technicians. Check out our huge service area.
Preventative Maintenance
Make sure your cleaning systems can handle any heavy-duty cleaning task by scheduling preventative maintenance from factory-trained technicians. Our technicians know all brands of pressure cleaning equipment and sanitizing equipment that keeps your fleet and facility sparkling clean. Our experienced service team receives high marks from our customers.
Parts & Accessories
McHenry PCS provides pressure cleaning equipment parts, cleaning solutions, and pressure washing accessories for the brands we sell as well as other equipment brands. Get the quality you need for maximizing uptime with factory authorized parts and accessories for your pressure cleaning equipment. Our extensive inventory helps you maintain, repair, and enhance your equipment for optimized performance.
More Info