Service & Maintenance
At McHenry Pressure Cleaning Systems, our customer service doesn't end at the sale. We're here for you throughout the lifetime of your equipment too. When you are in need of a pressure washer repair, we're on the road to serve at your site. We will bring a fully-stocked service truck to your business. And when you stop by the store, we have a fully equipped maintenance shop ready to handle any maintenance and repairs.
Our preventative maintenance contracts allow customers to receive regular maintenance checks, extending the life of their equipment. This also helps with repairing and replacing any parts that wear down over the years. At McHenry Pressure Cleaning Systems, you don't just buy our equipment; you buy a quality service team too. Remember, we service equipment brands that we do not sell as well. If parts are available, chances are we can repair it!
Request Service
In-Shop Service
We operate a complete repair facility in Frederick, MD. Our fully equipped 15,000 sq. ft. shop, along with factory trained and experienced technicians, provide the service and maintenance that keeps your equipment operating at peak performance.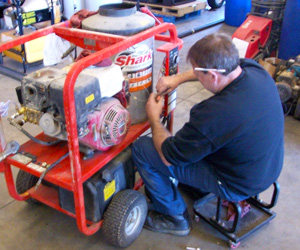 On-Site Service
McHenry PCS operates a fleet of fully-stocked service trucks that bring service to you if your stationary equipment or machinery needs service. Our on-site service saves you down time and allows us to check all aspects of what can affect your equipment. Our experienced service technicians strive to get your equipment up and running as quickly as possible, so you experience minimal downtime.
Preventative Maintenance
Proper and regular maintenance is the secret to protecting the investment you make in your equipment. McHenry PCS offers a Preventative Maintenance Program that provides the exact service your equipment needs. We set you up on a regular schedule to provide the on-site maintenance that keeps your equipment operating at peak performance. Give us a call today to discuss the program that is right for you.
Parts & Accessories
Proper service and maintenance is not possible without the right parts. McHenry PCS offers factory authorized parts that provide the quality and dependability you demand for your equipment.
More Info