Custom Built Pressure Washer Units
Special applications? No problem. We offer an endless variety of custom built systems for industries such as food plants, manufacturing, and even nuclear power plants. Our ability to design and build custom pumping stations can help you with even the most extreme application.
Stationary All Electric Heated Units
If you require emission–free hot water cleaning, our electric heated pressure washers are an excellent solution. This series is perfect for in-plant cleaning applications and features an efficient, on-demand heat exchanger for quietly heated water. Accessorizing this machine with just a few of our add-ons will allow you to customize it to meet your specific needs.
Specifications:
2000–4000 PSI
Flow rates from 2–8 GPM
Request More Info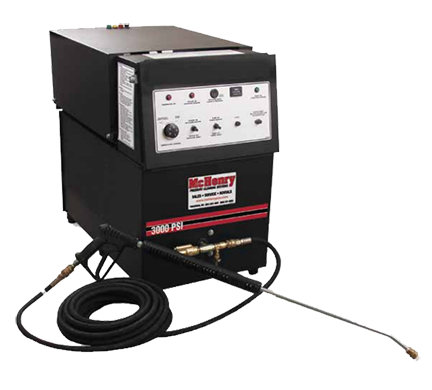 Portable LP Heated Hot Water Series
This series is the perfect solution for jobs that require hot water and portable high-pressure. Using efficient and clean LP gas that is carried on the unit, this series is an excellent choice for degreasing, sanitizing, and grime removal applications. This SP series features a reinforced powder coated cabinet-style steel frame that makes it tough enough to stand up to any job you throw at it. This machine will help you drastically cut down on cleaning time.
Request More Info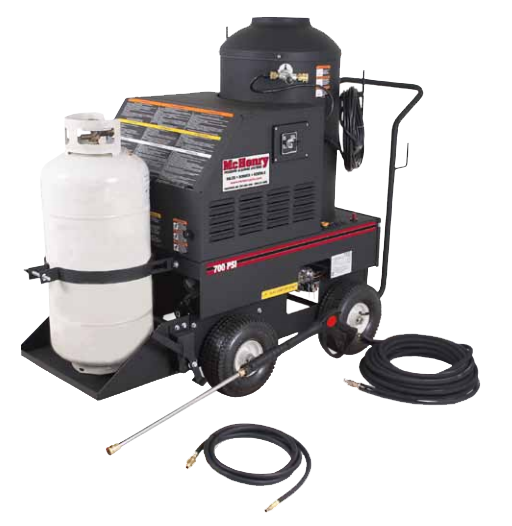 Skid Mount
Custom built skid mounted pump systems from McHenry PCS can accommodate up to 20,000 PSI and 120 GPM. These units are available with electric, gas, or diesel driven engines and can handle any application with ease. Have a custom build in mind? Click below to let us know how we can help.
Request More Info