Do you pressure wash decks, driveways, sidewalks, and garages for a living? Do you ever wonder if you can do it faster and better?
Chances are good that switching from a regular 2-inch spray wand to a multi-inch, multi-nozzle rotary surface cleaner attachment will double your productivity—or even triple or quadruple it! Concrete, wood, asphalt, and other flat surfaces clean up in a fraction of the time when you choose the right surface cleaning unit for your pressure washer. Maximize cleaning and efficiency by making the right choice for your commercial or industrial cleaning application.
Surface Cleaner Benefits
What's so great about surface cleaners?
They're designed for less mess and consistent cleaning of flat surfaces.
It's faster and safer to clean wood decking and concrete with a surface cleaning attachment.
You may even be able to use a surface cleaner to speed the process of cleaning vertical surfaces.
The performance is more consistent than cleaning with a wand because the units have multiple nozzles that remain the same distance from the surface to be cleaned.
With the proper unit selected, there's no striping on the surface—just a quality cleaning job.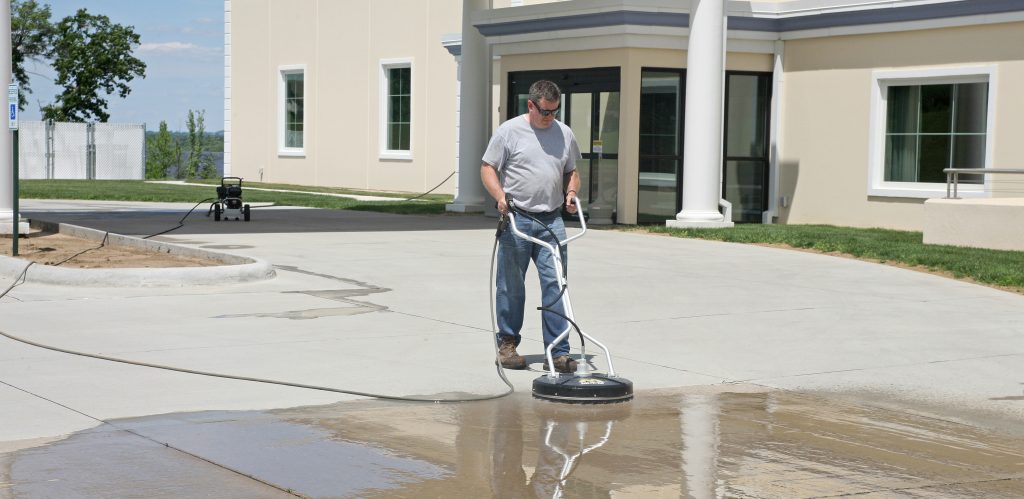 Fast, Clean and Durable
Performance matters!
Easy to Move: Surface cleaners may come with wheels or in a floating unit that can be easily moved from side to side, front and back.
No Waste & No Damage: All of them minimize overspray, and their rotary nozzles automatically avoid the striping that can occur with a pressure washer wand.
Fast Results: Contractors as well as homeowners love them for producing excellent cleaning results in much less time.
Time-Saver: Surface cleaners feature two or more nozzles that cover a wider area than a pressure washer wand, so imagine cleaning in a quarter of the time!
Durability: Keep in mind that inexpensive consumer models can do the job, but they are not designed to last as long or endure repeated use. Commercial surface cleaners stand the test of time with more rugged construction. Some feature stainless steel construction for the ultimate in durability. Others feature powder coated steel or tough plastic housing.
Choosing a Surface Cleaner Size
Size: The most important choice when selecting a surface cleaner for your pressure washer is the size. Size matters for maneuverability as well as power. Remember that small floating units can more easily get into corners, so they are better suited for cleaning decking or small spaces. For large, concrete driveways and garage floors, larger units with wheels may be preferred.
Surface: The surface also matters. For driveways and other concrete surfaces, the more powerful your pressure washer, the better the surface cleaner will perform. Keep this in mind if you are tasked with cleaning very grimy garage floors or large blacktop or concrete areas.
Power: In terms of the power of the surface cleaner, your unit should match the flow rate of your pressure washer. If you don't select the right size, you will likely be underpowered, making it take longer to clean the deck, pool decking, patio, driveway, or floor.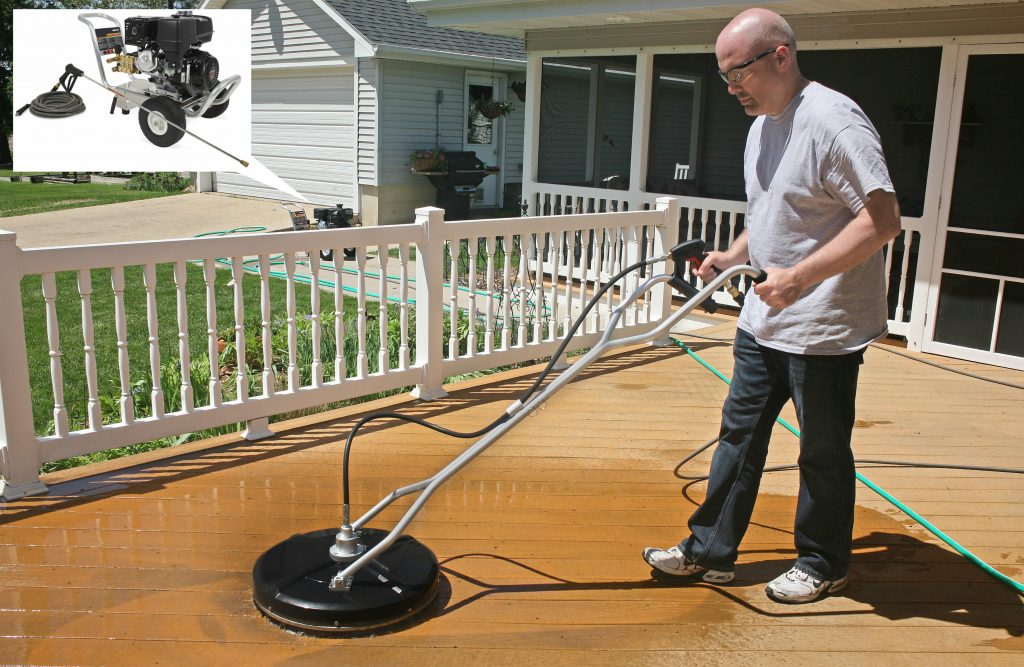 While you might be tempted to get the largest unit, you need to ensure that your pressure washer machine has enough power in gallons per minute (GPM) and PSI to accommodate the large surface cleaner.
For starters, you need to have 2000 PSI and 3 GPM in order to use any surface cleaner with your pressure washer. A good rule of thumb for surface cleaner dimensions is to have 1 GPM for every 4 to 5 inches of a surface cleaning unit, so if you have a 4 GPM pressure washer, you will likely get the best results from a 16- to 20-inch surface cleaner.
If you provide commercial and industrial cleaning, it may help you to review the tips in our previous blog, Selecting the Right Pressure Washer for Industrial Cleaning.
With more than three decades of experience serving the region from Baltimore, McHenry Pressure Cleaning Systems has the expert knowledge to ensure you purchase the right surface cleaner attachments for your projects. Get more done in less time with quality rotary surface cleaning solutions from McHenry.
If you have any questions about the size and style of surface cleaner that will work best for you, please contact us.