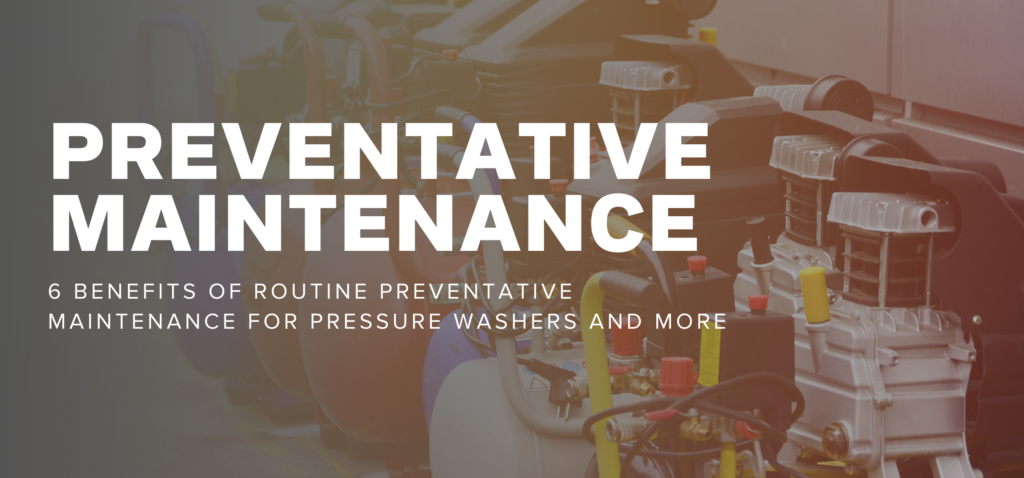 ---
"If it isn't broke, don't fix it."
Let's bust that myth right now! When it comes to pressure washers and air compressors, routine and preventative maintenance keeps your business going. It prevents delays and helps you make more money. Let's review six benefits of preventative maintenance for your essential equipment.
---
Reduce overall expenses.
Prevent work delays.
Reduce the risk of accidents.
Extend equipment life.
Increase efficiency.
Enhance the work environment.
1. Reduce Overall Expenses
Preventative maintenance of pressure washers and air compressors will reduce your overall expenses. The following benefits further outline just how much you can save by avoiding work delays, injuries and hiring, while also increasing the efficiency of the equipment and your operation. Spend a little time and money on routine maintenance to enjoy longer-lasting equipment that works every time you fire it up.
2. Prevent Work Delays
We all know that nothing stinks more than a breakdown that causes an extended work delay. And we all know that regular maintenance of pressure washer and air compressor systems helps avoid costly downtime. Save yourself a ton of downtime by going down the operational checklists before every use and talk to McHenry about a Preventative Maintenance Contract. This will provide expert maintenance on your equipment and keep you on a schedule, which is certain to help avoid breakdowns and work stoppages.
3. Reduce the Risk of Accidents
Workplace accidents can cost companies thousands in work comp claims. Keep your pressure washers and air compressors operating properly and safely to avoid these costs and the costs of downtime due to injuries. You'll also want to make sure your employees are trained to use the equipment properly. We can help you ensure safe equipment through expert maintenance.
4. Extend Equipment Life
Want to make your equipment last for years and years? Do the maintenance! Just like your work trucks and other equipment, maintaining your pressure washers and air compressors keeps them running like clockwork and helps them endure heavy use. When you skip regular maintenance tasks, you are eating away at the life of your equipment. You made an investment in great equipment—it would be a shame for it to go to waste!
5. Increase Efficiency
Simply put, efficient equipment saves you money. When your equipment performs properly, it costs less to run. Keep air compressors and pressure washers in peak condition.
6. Enhance the Work Environment
The worker shortage has affected nearly every industry. What can you do to retain employees? Make sure your equipment is in proper working order! This simple act does a lot to improve morale. It keeps employees working and productive, which makes them feel good. Keeping your employees happy will help you retain workers in this difficult employment market. Having quality equipment that doesn't break down all the time will make a difference and help you avoid the huge expense of replacing yet another employee.
So, we say, "If it isn't broke, take care of it." Keep your equipment in top condition through preventative maintenance. Make it easier on yourself and your budget — consider a Preventative Maintenance Contract from McHenry PCS. Our factory-trained technicians provide this service throughout the Baltimore, Washington DC and surrounding areas of Virginia and Maryland. Contact us today.