If you or your customers have ever wanted to clean out a drain or pipe without calling the plumber, you're in luck. Your pressure washer may be capable of converting into a pipe cleaner—a jetter, as they're known—with a custom kit that includes the hose reel, control valve, jetter hose and nozzle. Let's find out what it takes to make your pressure washer a pipe cleaning machine, too.
What's the difference between Pressure Washers vs. Jetters?
What is a Jetter Machine?
Jetter machines go by three other names: Hydro Jetters, Water Jetters, and Sewer Jetters. Jetters use high-pressure water jets to clear out and clean drainpipes in residential and commercial settings. Even municipalities use jetter machines to clean out sewer systems. Jetter machines are specialized pressure washers with flow that starts at 3 gallons per minute (GPM). Not all pressure washers have 3 GPM flow or more, so be sure to check the flow rate on your pressure washer to make sure it will work as a jetter cleaner.
Convert a Pressure Washer into a Pipe Cleaner
Why have a jetter machine and a pressure washer when you can convert your trusty workhorse pressure washer, into an effective pipe cleanout tool?

You already use your pressure washer for a lot of projects. Now, with a 3-part conversion kit, you can use it to expand your work into cleaning drains and pipes. This saves you on maintaining two pieces of cleaning equipment, too. All you need to start cleaning drainpipes is a 3 GPM or higher pressure washer unit and a jetter conversion kit from McHenry Pressure Cleaning Systems.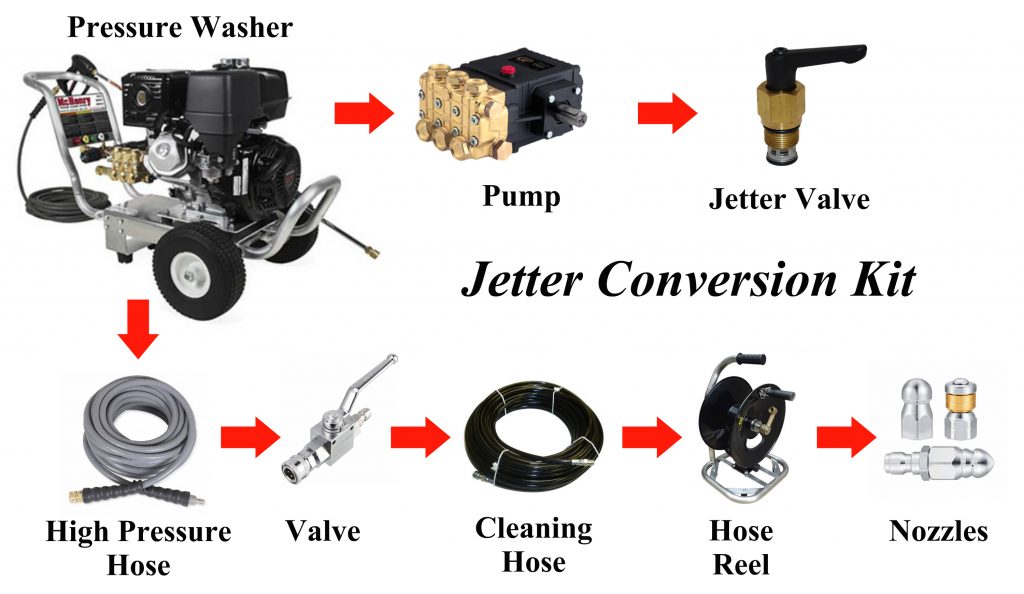 McHenry's Jetter Kit includes three main components:
Hose Reel
Control Valve (with foot or hand lever)
Properly Sized Jetter Hose and Nozzle
The conversion kit is an affordable solution that allows you to clean clogged floor drains and pipes. The hose for jetting operations needs to be long enough to snake into some pretty long drainpipes. Choose the one that is right for you, and we can offer you a portable or hand-carry hose reel to manage the length. Same with the control valve—choose a foot lever or a hand lever for controlling pressure and flow.
Finally, the jetter nozzle is a specialized accessory that concentrates the water flow for optimized pipe cleaning.
Hot Water Pressure Washers Clean Clogs More Effectively
Keep in mind that a hot water pressure washer unit may be useful in cleaning out greasy drains, such as commercial kitchen drains. Hot water tends to clean grease, sludge and grime better than cold water. If you have a hot water pressure washer for your commercial cleaning operations, you are a step ahead when converting to pipe cleaning applications.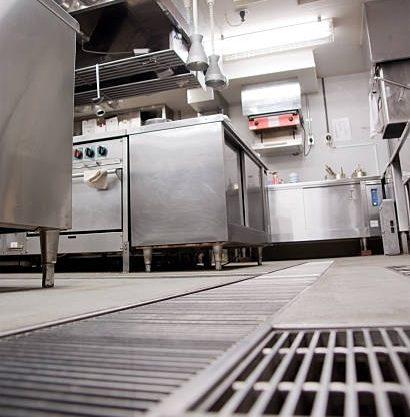 With the right pressure washing equipment and accessories, you can clean pipes and drains efficiently and effectively with your pressure washer. For a customized jetter conversion kit with the nozzles, hoses and valves you need, contact McHenry PCS for a quote.
We're the Baltimore and Washington DC area's source for quality commercial pressure cleaning equipment and service.