Treat & Release Systems
If your location has sanitary sewer discharge, your optimum treatment solution may be a treat and release type system. These systems will assist you in meeting your municipality recommended allowable limits of discharge. This may involve oil separation, clarifying, and/or pH adjustment to name just a few. We can assist you in improving the performance of existing systems or designing a new system for your facility. McHenry PCS has many treatment systems that can provide adequate pretreatment of your wash water stream before it can be legally released to sanitary system or some other process or treatment system.
Request More Info
Oil Water Separators
If you need to pretreat oily wash or process water before release or disposal, our WOS series may provide a great solution. This series provides above-ground oil, water and solids separation with three-stage stainless steel tanks, and bio-film generative media. These mechanical oil/water separator systems are designed to remove free oils and will reduce the number of suspended solids while removing hydrocarbons to meet local sanitary sewer discharge requirements. Our WOS Series is a good choice for pretreating vehicle wash water before release into sanitary sewers. Different flow rates and capacity systems are available to meet your requirements. Please contact us today to discuss your application and let McHenry PCS design a system for your needs.

View Full Product Line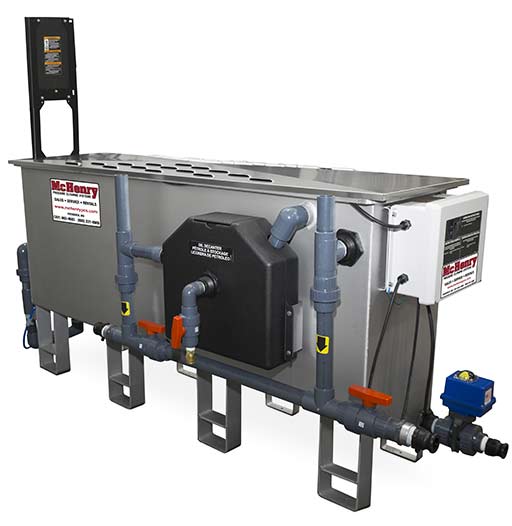 Clarifying Separator Systems
If your waste stream contains oil, and solids (mud/dirt) then our WCL series may provide a good pretreatment solution. With poly cone-shaped clarifier tanks and solid separation chambers, this system allows for easy, above ground treatment of wash water from excavating and heavy equipment and trucks. The cone sloped tank design allows for easy purging of solids and oil decanting. The WCL will reduce the amount of suspended solids while removing hydrocarbons to meet local sanitary sewer discharge requirements. Two different capacity sizes and available options allow for custom designing to meet your requirements. Contact McHenry PCS to discuss your needs and whether a WCL system is right for you.

View Full Product Line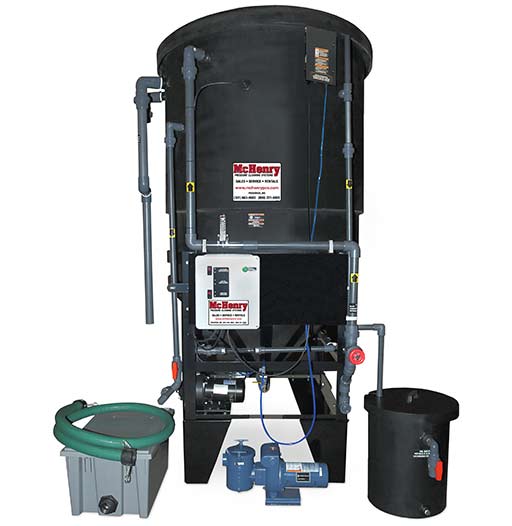 Pit Management Systems
McHenry PCS can help increase performance of collection and wash pits, and prevent the septic smell that is caused by improperly treated wash water. Our Pit Enhancement Systems enable you to inject air, microbes, and nutrients into water stored inside pits where oil is trapped. The BPS Series improves water quality by decreasing trapped oil and adding oxygen. This process delivers a better-treated discharge and helps prevent offensive smells. Our pit management systems are compact, easy to install, and provide cost-effective results.
Request More Info

View Full Product Line