Pressure Washer Trailers
Trailer mounted pressure washers offer complete mobility, enabling users to clean virtually anything, anywhere. McHenry PCS offers standard trailer unit models that include single axle and tandem axle trailers, and water tank capacity from 100 to 525 gallons. Units can be supplied with either cold or hot water machines that vary in pressure ranges and flow rates.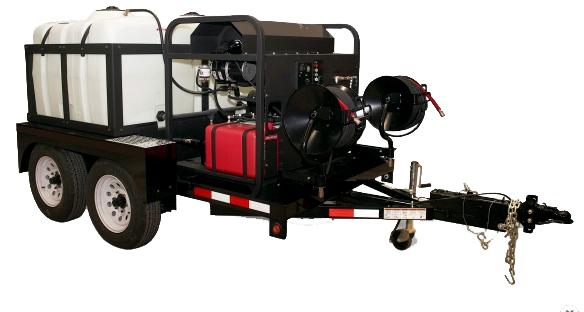 Custom Built Cleaning Trailer
Aside from standard size trailer units, McHenry PCS offers custom design and fabrication services. If your pressure washing application demands a custom unit, then McHenry has the solution. With custom sizes, accessories, and machine mounts, we provide a variety of custom trailers that solve each customer's unique needs and applications. We also offer custom trailers for both recovery and filtration of wash water. Our custom fabrication helps customers stay environmentally compliant and are sized specifically for their application and load. Review the McHenry PCS gallery to see some of the units we've supplied to our customers and to see what we can do for you.
When building a custom trailer, there are many things you'll need to consider, like the number of pressure washers, flow and pressure specs, size and number of tanks, and other equipment needs. We offer both single and tandem axle trailers that offer the most space, storage, and portability possible. Of course, weight of equipment, water tanks, etc., determine both size and load capacity needed. With GVW capacities of 3,500 lbs. to 20,000 lbs. GVW, our custom units can haul the weight while maintaining safe and stable travel on the road.
We offer a broad range of pressure washer capacities from 4 GPM to 50 GPM+, pressures from 2,000 PSI to 7,000 PSI, and, of course, hot or cold water. We offer many variations of two-gun systems that meet heavy commercial washing application standards. Lastly, outfitting a trailer with accessories further enhances efficiency and the user's experience. Let us help you select the number of hose reels, tool boxes, racks or any other accessories that are appropriate for your type of work environment.
Request More Info